Craft, underwater!
Battle, befriend and build with Ocean Craft Multiplayer!
Choose from lots of sea creatures, go exploring underwater and online with many players from around the world!
Customise, name, survive, craft, rank up and explore with your ocean pet !
Many maps, including, Marine, Atlantis, Fish Bowl, Castle and Gamers Tribute Map!
Decorate your Clown fish, Piranha, Manta Rays, Turtles, Sea horses, Dolphin, Seal or Sharks skins and trail patterns and colours!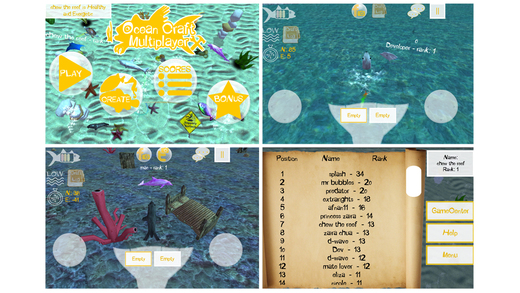 Role play and chat online with others as there own sea animals, become friends or battle against them for shiny experience coins, or team up and take down enemy sharks and piranha!
Cross Platform, 3D environment, colourful, online multiplayer, PVP, boss battles and more!
Free version also available on the store!
Full version differences:
No adverts
Two more maps and map options
Extra Dolphin, Shark and Seal characters
Chat input limit increased
Secondary bonus perk option
Helps support servers and the developer
【免費APP-Ocean Craft Multiplayer APP試玩不用錢】
遊戲APP試玩-Ocean Craft Multiplayer
分佈國家
支援APP系統
版本歷程
APP費用
APP評價
上架日期
更新日期
美國 (U.S.A)
iOS
App Store
1.1
下載
$0.99

2014-08-27
2014-09-22
台灣 Taiwan
Android
Google Play
1.1
下載
NT$42.0

2014-08-26
2015-03-26
未知
iOS
App Store
1.3
下載
$0.99

2014-05-16
2015-06-03
未知
Android
Google Play
1.3
下載
GBP$0.69

1970-01-01
2015-04-23